this will be a work in progress, b/c i have tons of pics and it's going to take while to finish. i'm going to leave it stickied while i work on it.
needed tools:
screwdrivers (flat and phillips)
open wrenches
allen (hex) wrenches
compressed air
carb cleaner spray
+/- needle nose pliers
container to catch gasoline
4 disposable tupperware-type containers, or another method for keeping things separate
for the names of all parts, i'm going according to the yamaha OEM service manual. use this for reference: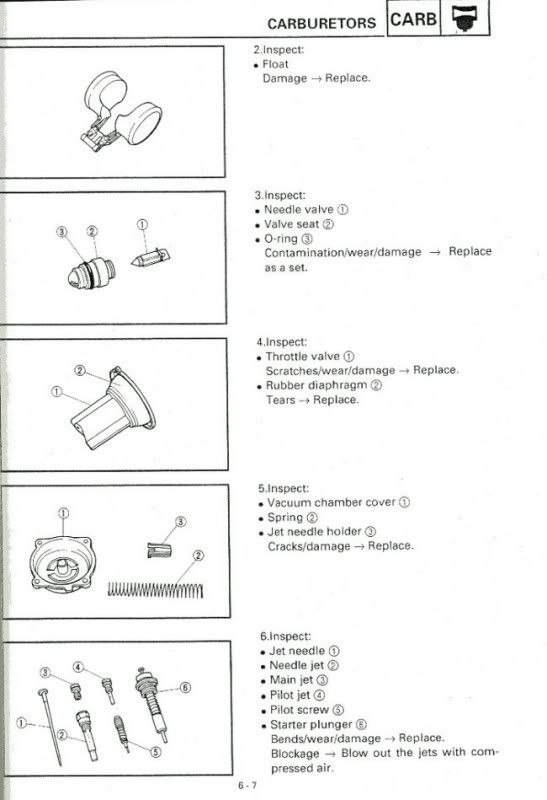 now, ordinarily, we do not post copyrighted material on this forum. i've included this page it b/c it makes it a ton easier for everyone to follow if we're using the same terms. if anyone, esp the other admins, feels it shouldn't be here (ie, i'm being hipocritical), let me know and i'll take it down.
i'm starting the how-to from the point that the carbs are already off the bike. unfortunately, i didn't take pics during the removal, which is a shame b/c it's a little tricky if you've never done it before. eventually i'll get around to it, but for now, let's begin...
first thing: mark each carb bank and the base with a corresponding number (ignore the fact that one is already open in this pic). you can see i used the fancy Roman numerals.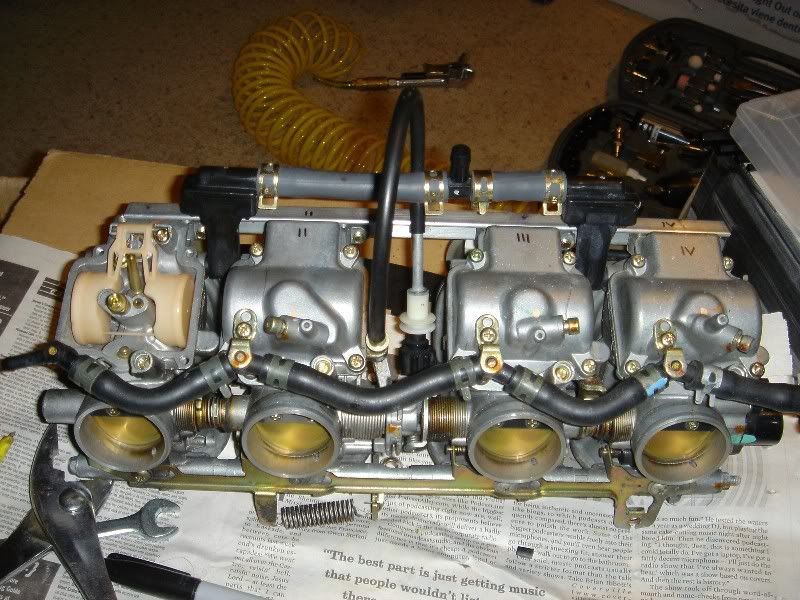 when you have the carbs apart, keep them separate. ie, do not mix up the parts from one carb with those from another. they may not seat properly otherwise. some recommend not disassembling more than one at time, but that makes it more of a pain to clean them out. just keep everything clearly separated and marked. 4 large tupperware-type disposable containers would work well.
drain the gas out of all four carbs. big circle marks the drain plug; little circle is where the fuel will drain from. just so you know when it starts pouring out all over you, like it did me. remember to close the drain. (ignore screwdriver and what it's pointing to for now).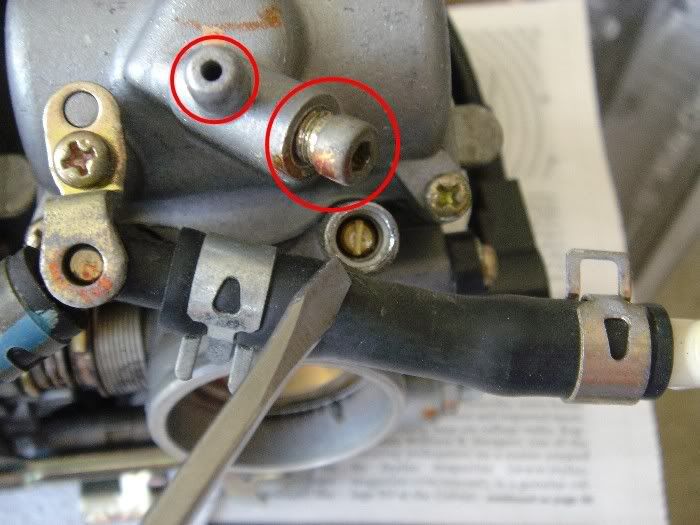 flip them back over, and you have the front of the carbs, viewing the vacuum chamber covers: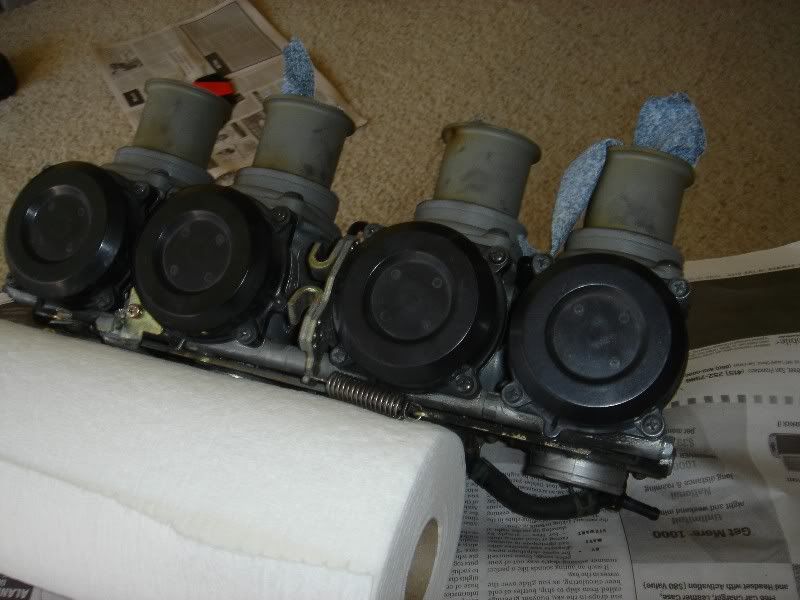 one chamber at a time. 4 screws to remove here. be careful removing all screws, and take your time. i cannot stress enough how important it is to be patient and apply massive amounts of pressure to the screws while turning to prevent them from stripping. i fubar'd a few and had to get replacements (catintenn rocks
).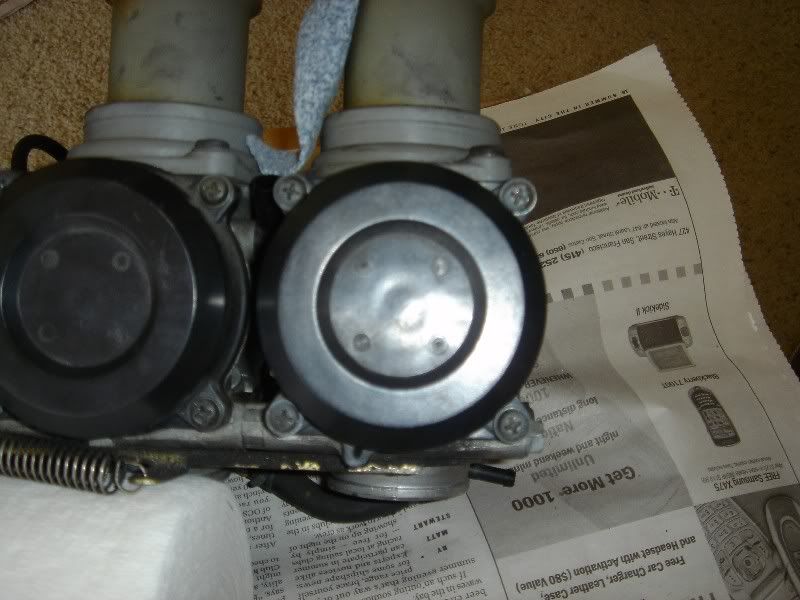 pull off the cover carefully, or the spring will jump out.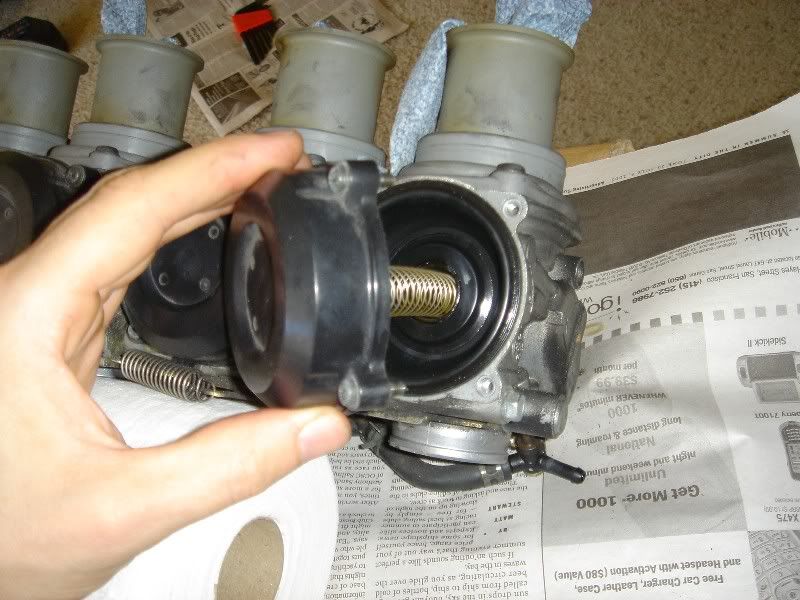 boinggg...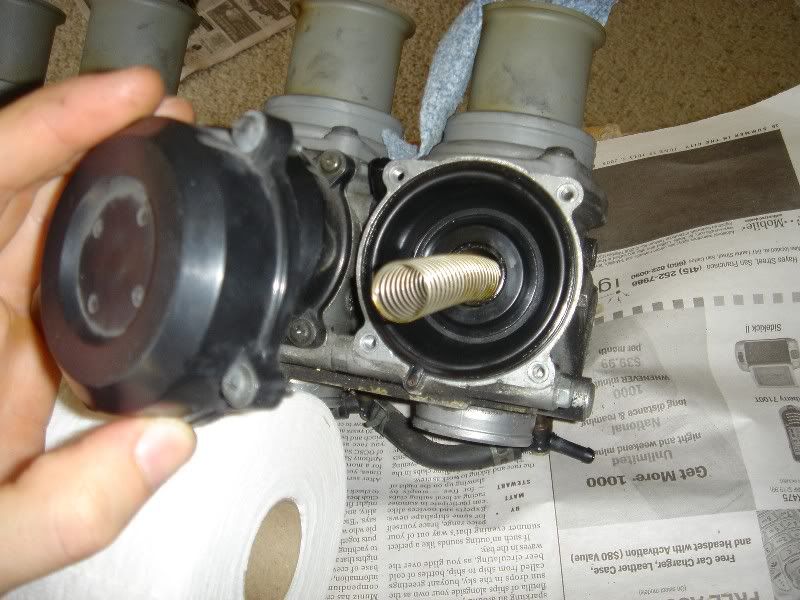 looking in at the jet needle holder: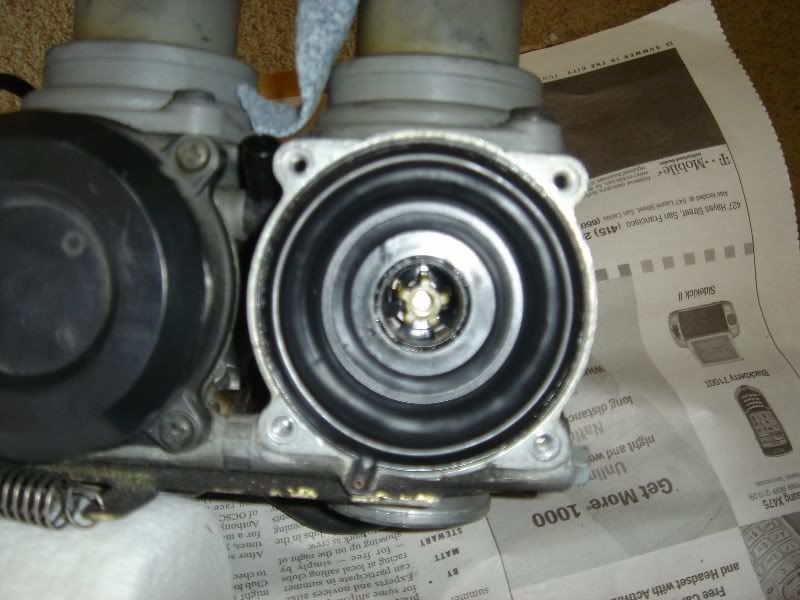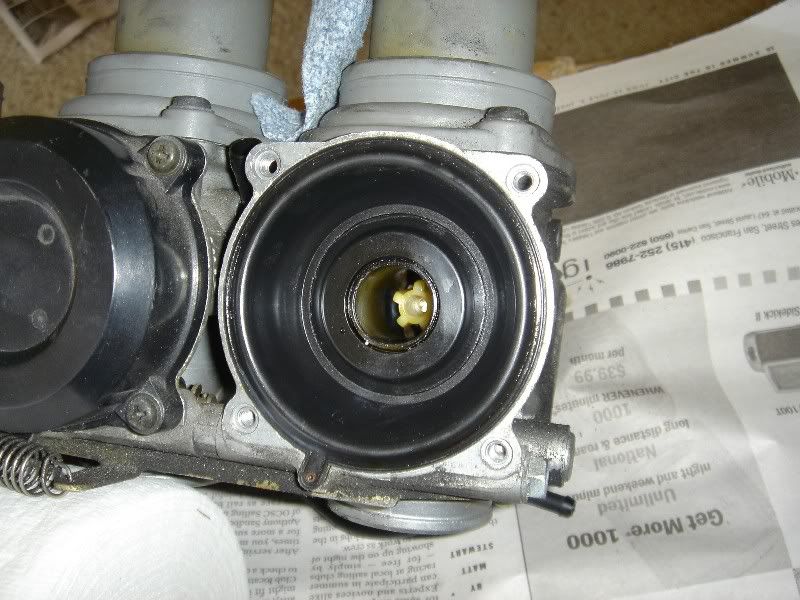 carefully peel back the rubber diaphragm, attached to the plastic throttle valve.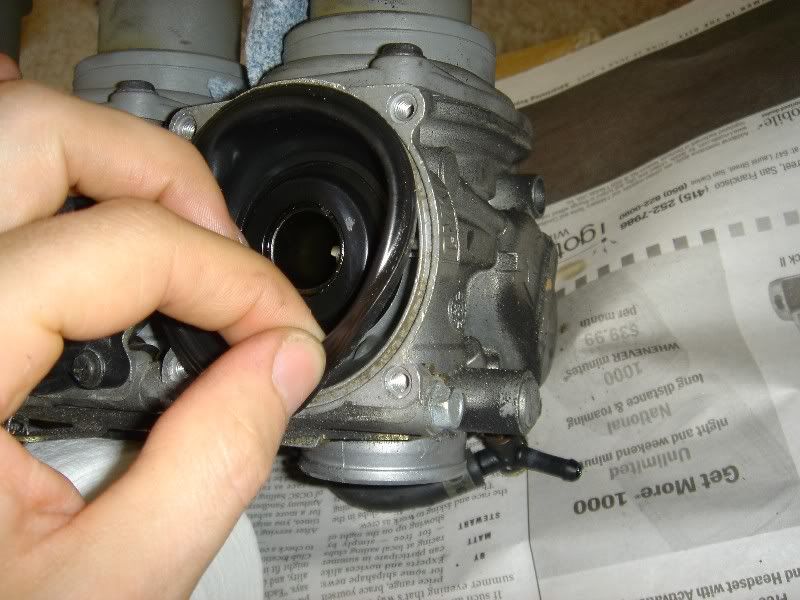 remove diaphragm and throttle valve with jet needle and jet needle holder in place: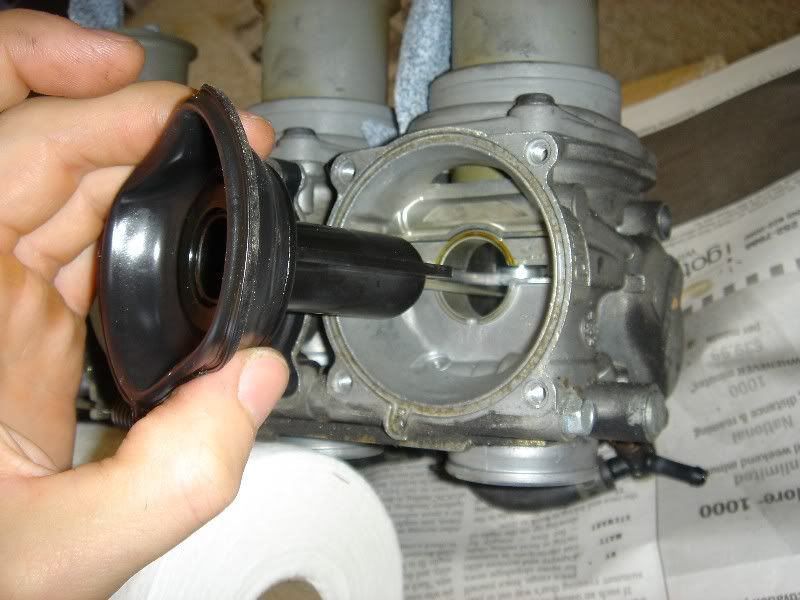 front of the carb with everything out from this side: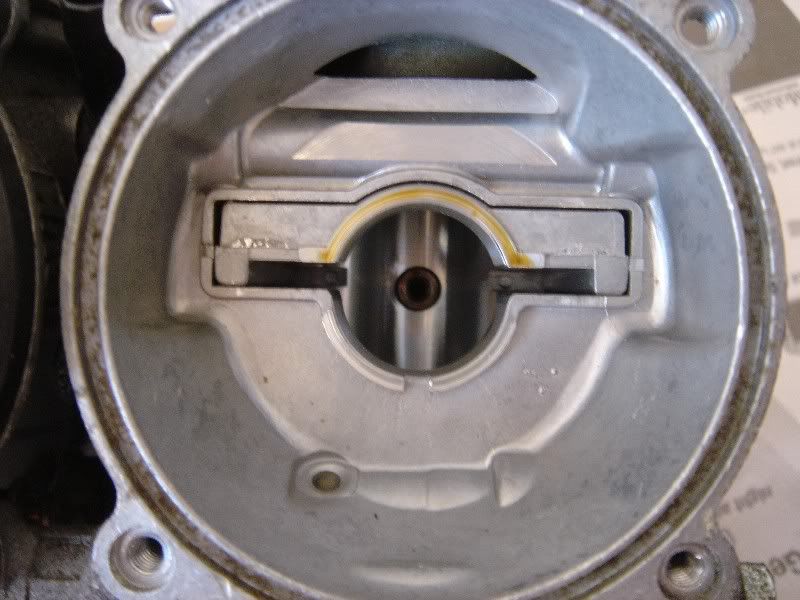 repeat for the other 3 carbs, remembering to keep everything separate.
flip back over. again, one at time. i don't know what i was pointing to here.
4 screws to remove here. again, be careful and apply strong downward pressure. i messed up some of these too.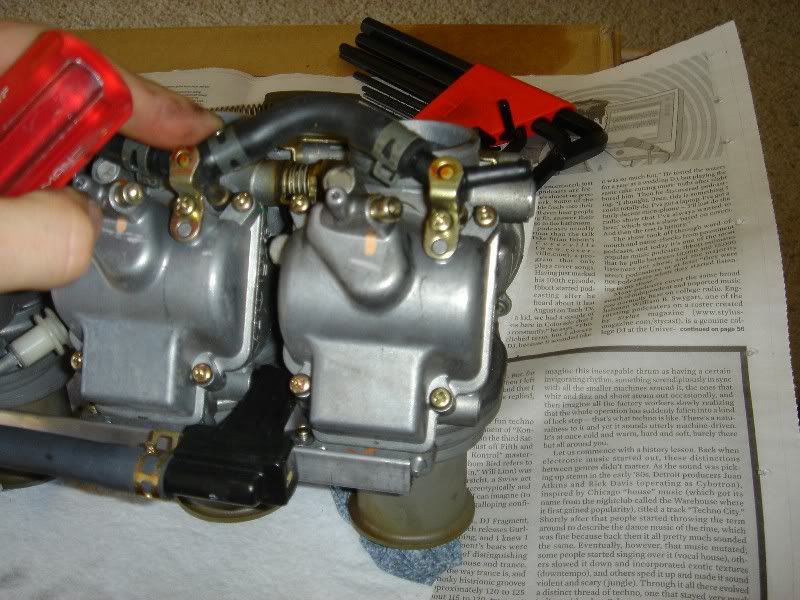 yep, not good. some were worse.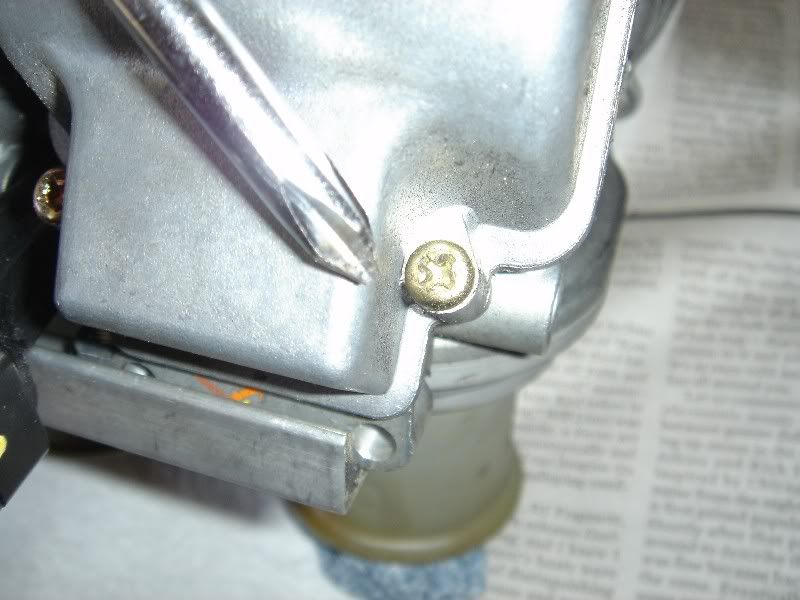 remove float bowl carefully. inspect the gasket to make sure it's intact. i did not replace them.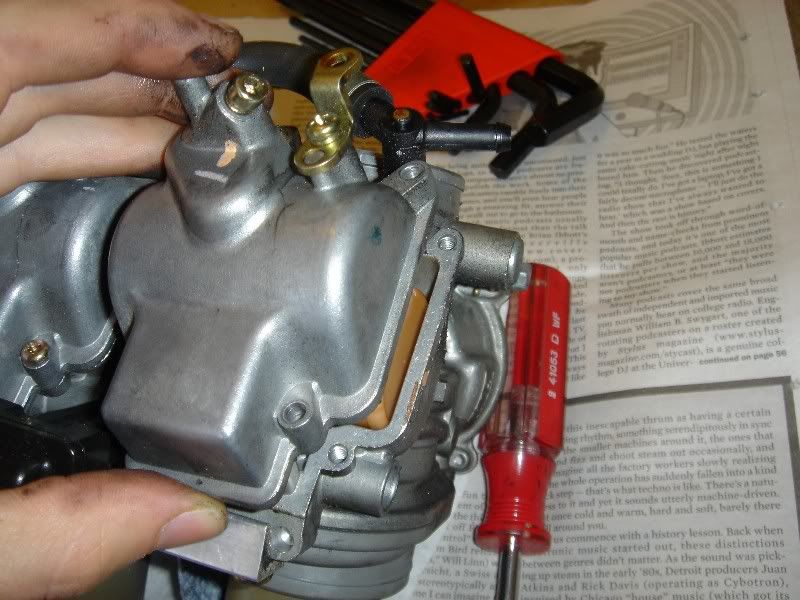 to be continued...
ok, going on:
pulling off the cover, you have the floats exposed: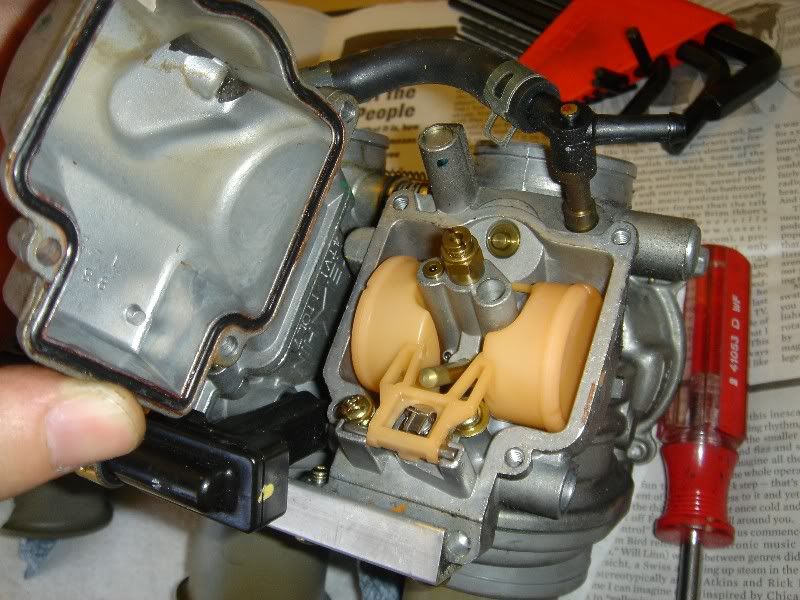 gunk inside: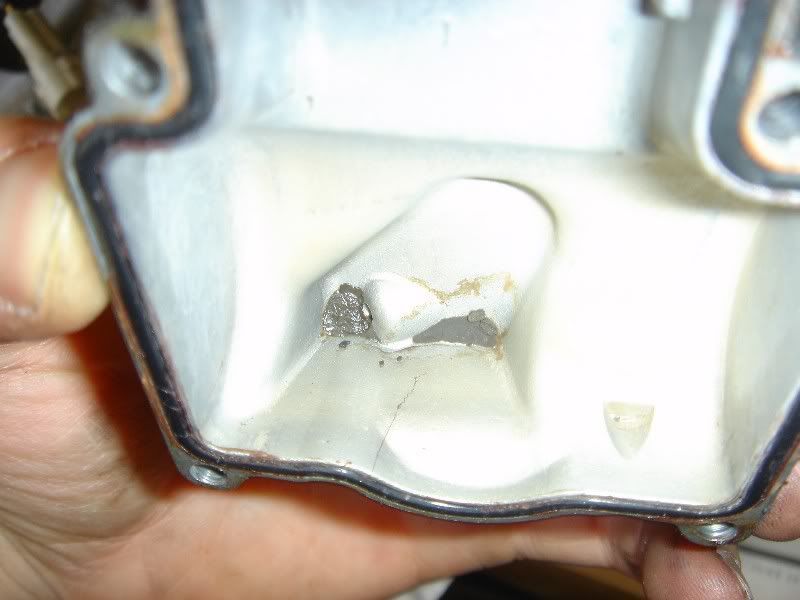 unscrew the main jet from the needle jet: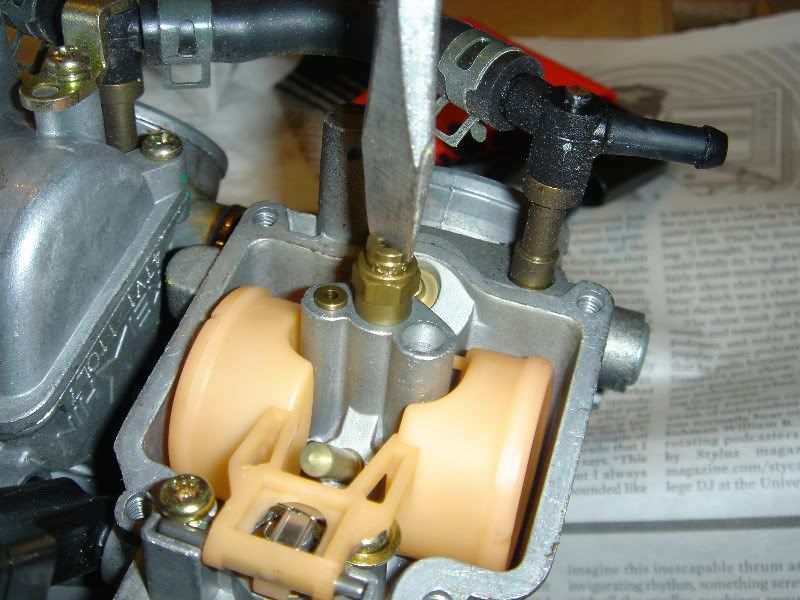 here you can see them separating: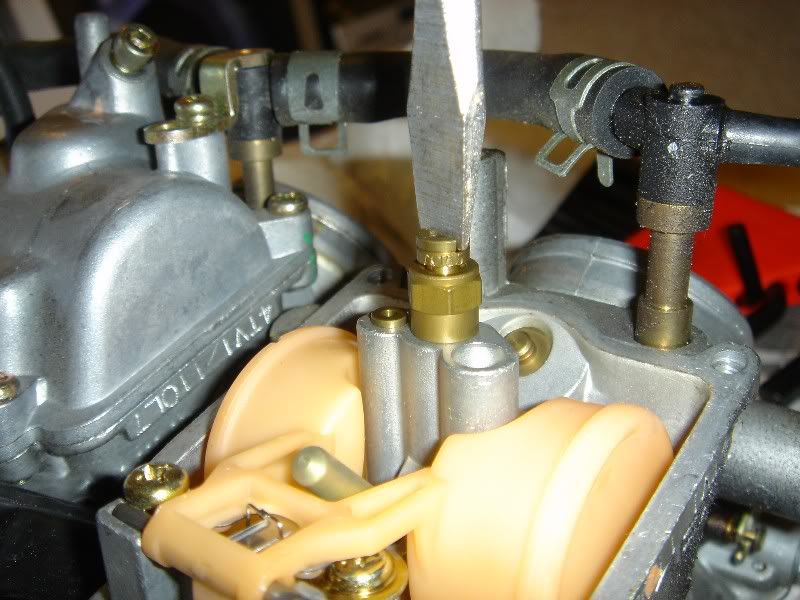 use an 8mm wrench to then remove the needle jet: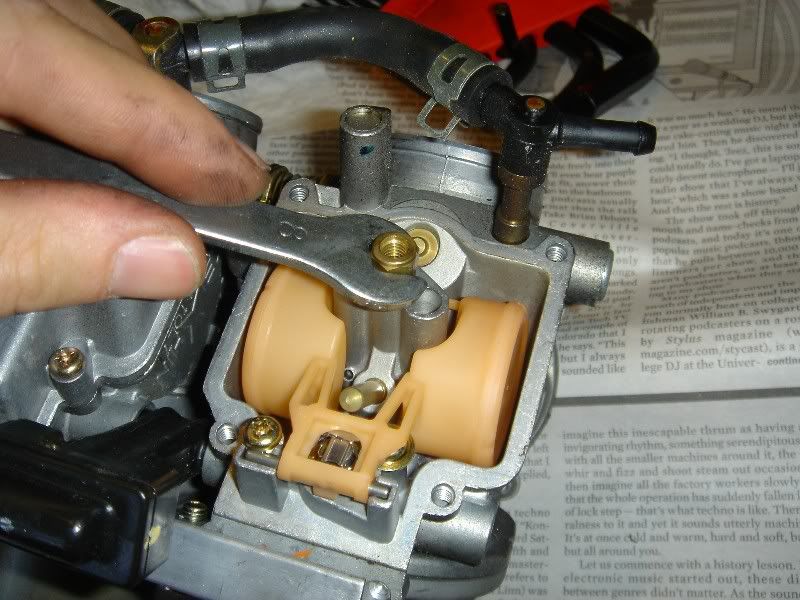 unscrew the pilot jet, seated inside this hole: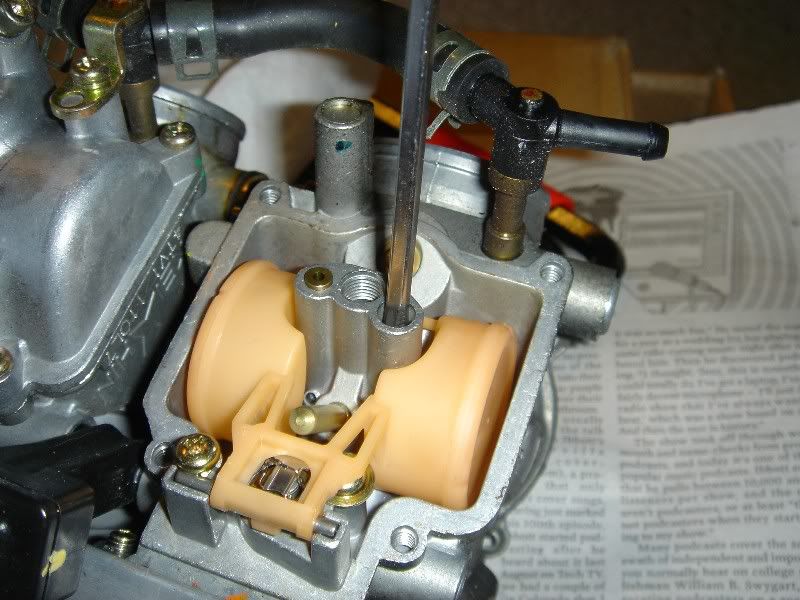 remove the pilot jet. (this photo is from the reverse angle - it's halftime.
)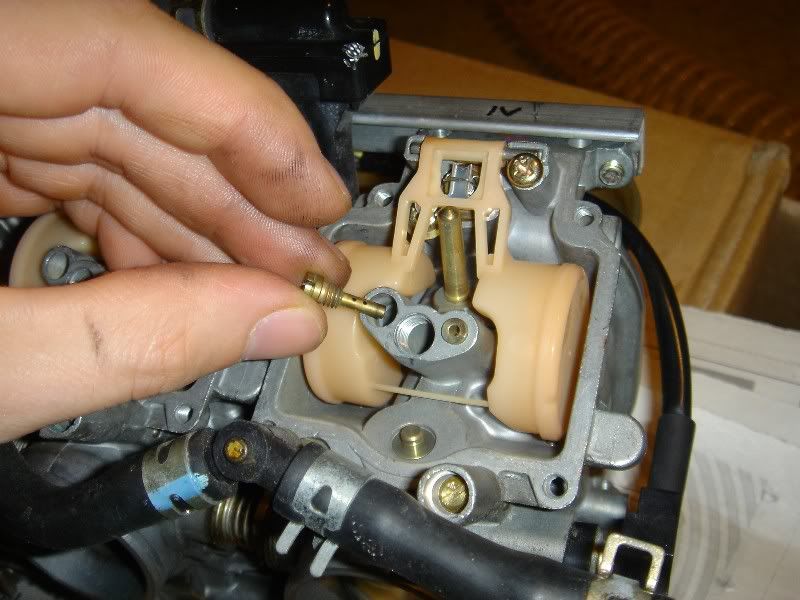 time for a break...
okedoke:
remove the screw that holds down the floats: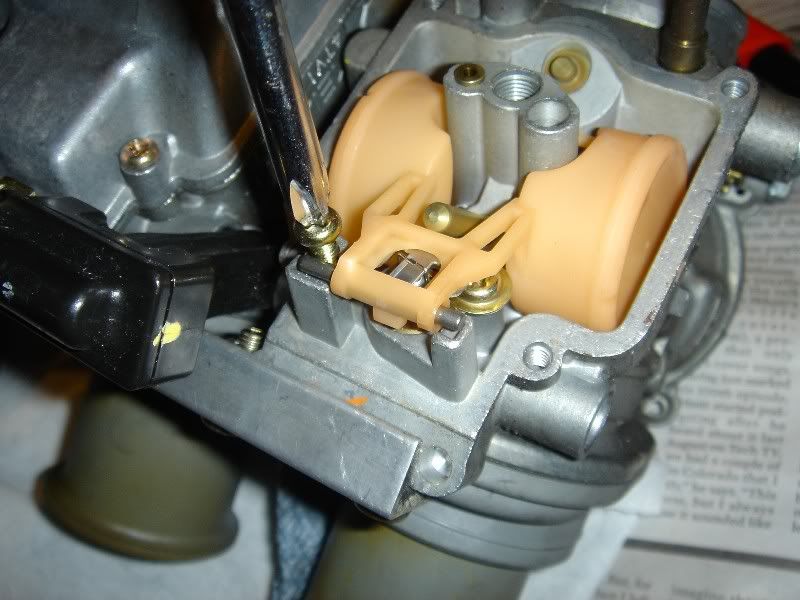 pull out the floats. be a little careful with the needle valve, which hangs from the floats on a little metal clip. it'll fall off at some point, guaranteed, but is easy to put back on. just take a look at it before it falls off so you can see which way it goes on.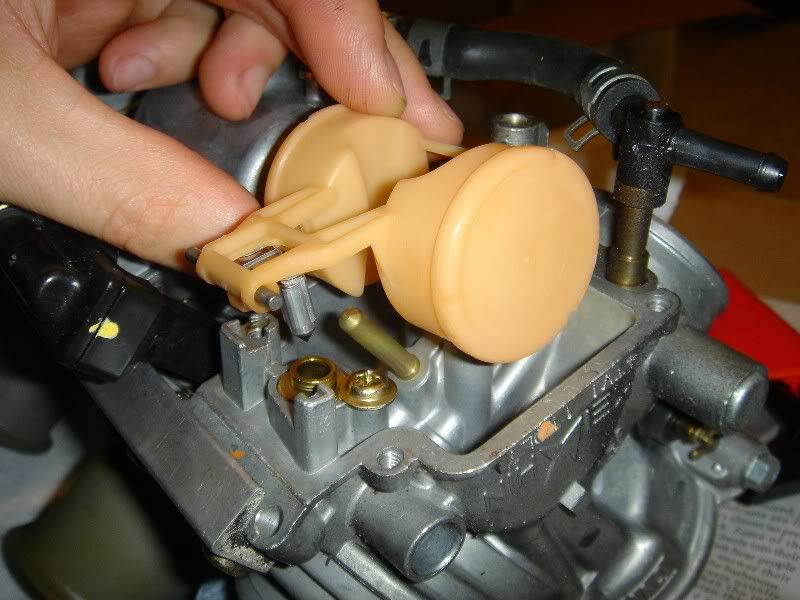 undo the screw that holds down the valve seat: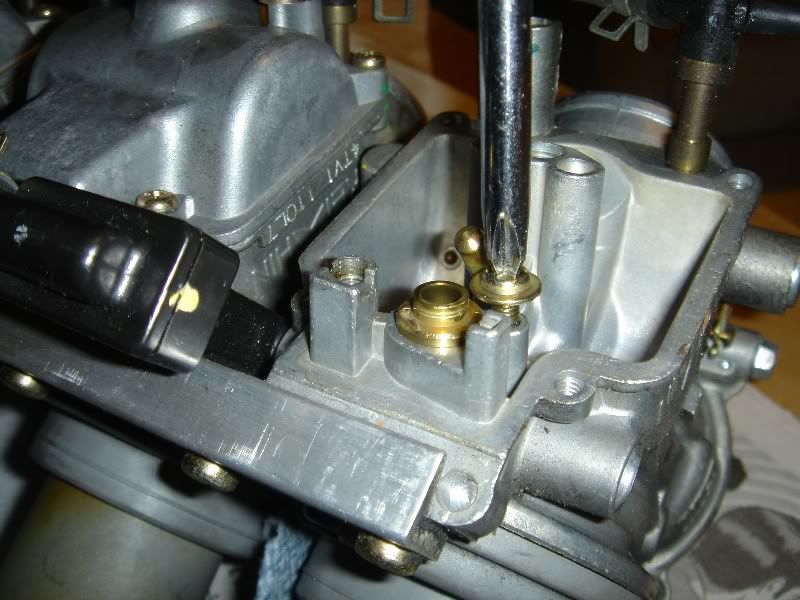 pull out the valve seat. this is a little tricky, b/c it's sandwiched in there pretty well. i used my fingers and some good wiggling, as well as a screwdriver to gently pry it out. i think some needle nose pliers on a thin rag would prob work well, to avoid damaging it.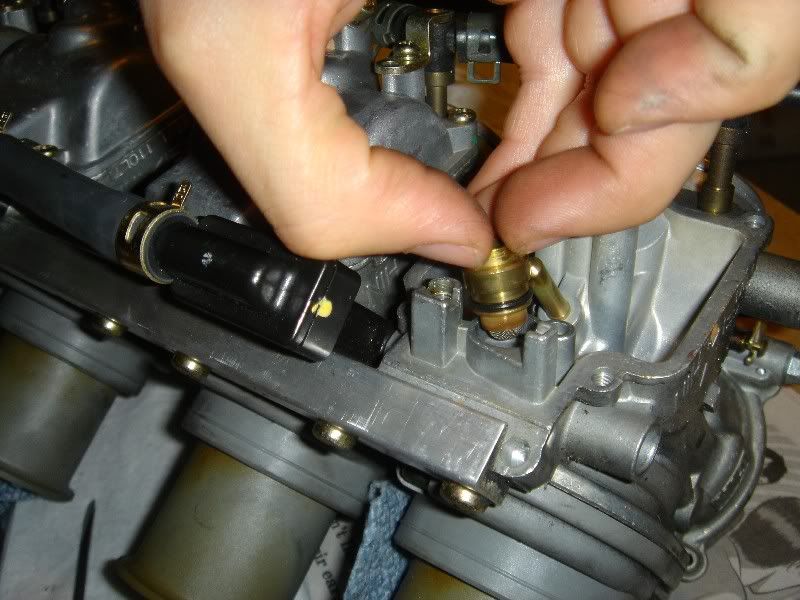 this is what it looks like when you take it out: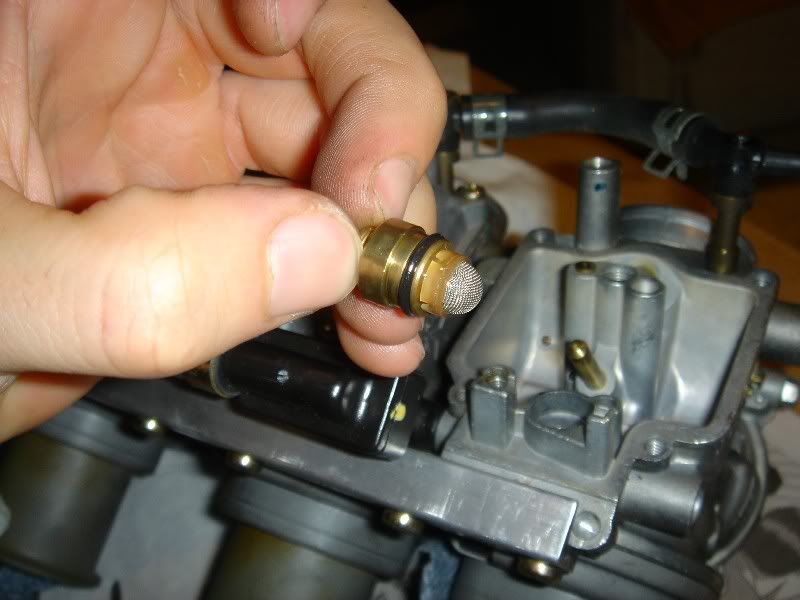 this is what it looks like when you drop it on the ground: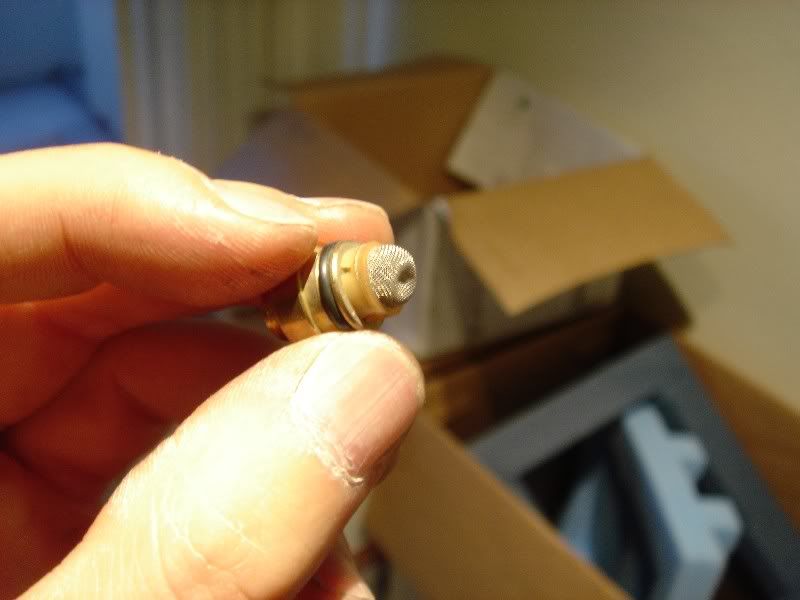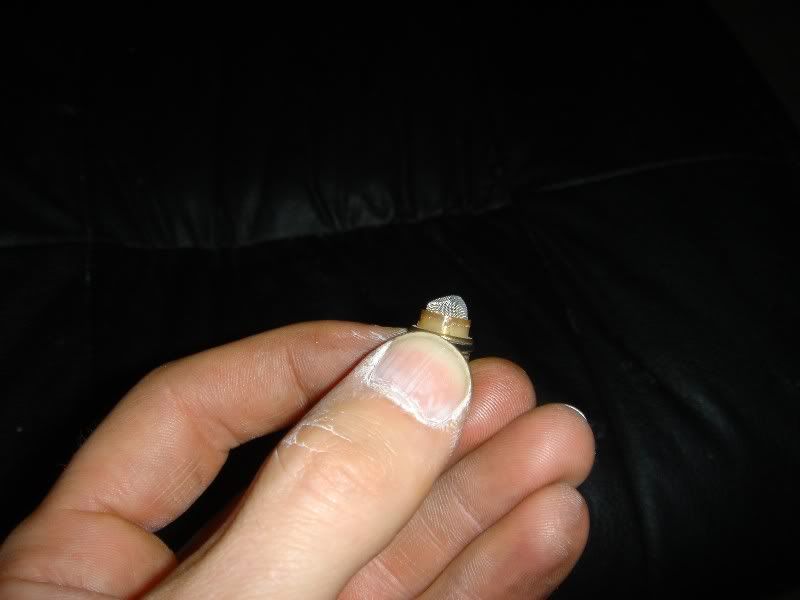 after running by some other forum members, i just reused it. it shouldn't affect anything with that little dent there.
repeat for the other 3, keeping everything separate. that's it for disassembly. now you are ready to clean.
to be continued...
ok, to clean them out after you've done all the above to all 4 carbs: take the can of carb cleaner and spray all the little float bowl orifices well. use the compressed air to blow it out, making sure to hit every nook and cranny. after you've hit all 4 carbs a couple times,
carefully
use the carb cleaner and then compressed air on the jets that you've removed. i say carefully, b/c you don't want to blow the things out of your hands and across the floor.
assembly is just the reverse of the above steps.
Jet kit (also called carb kit) install: very simple if you've come this far.
this is Ivan's carb kit (the one i used - there are others out there):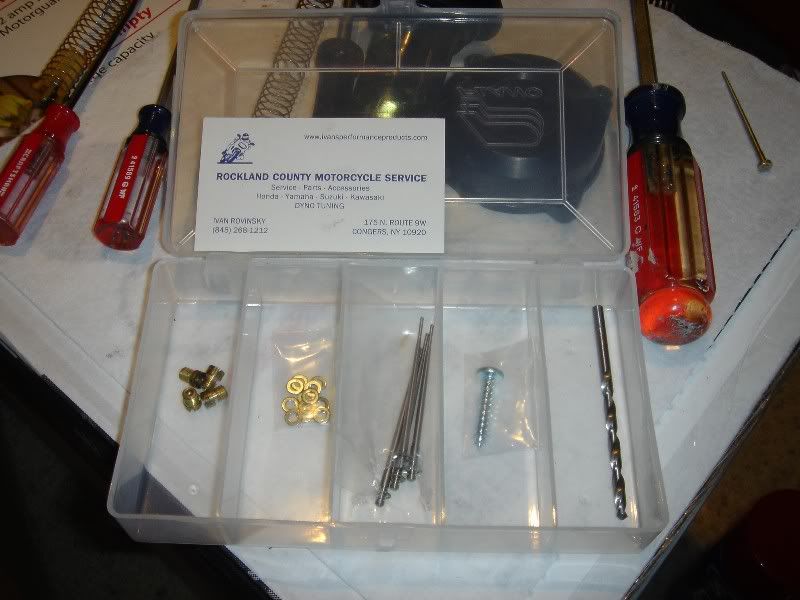 here are the main jets. left is stock - 155. on the right is the one that comes with Ivan's carb kit - 152.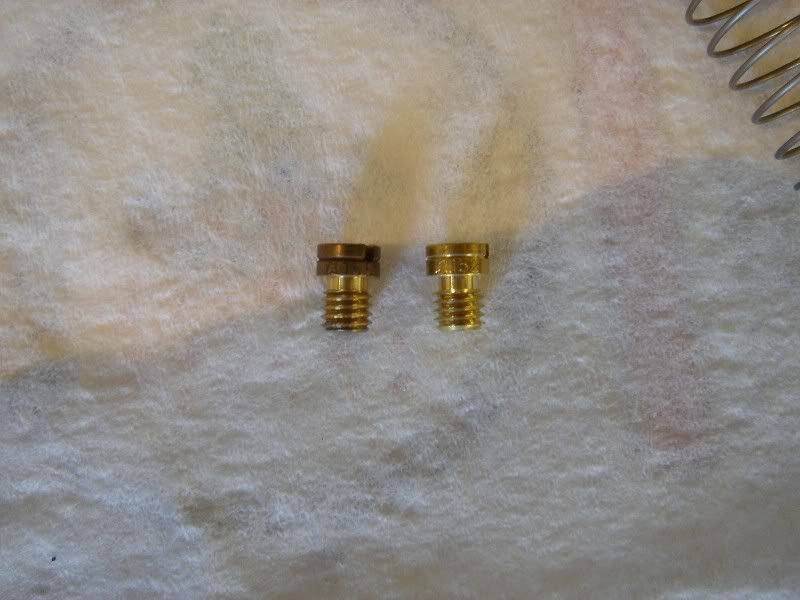 when reassembling, simply use the 152 instead of the 155.
here are the jet needles. left is stock. on the right is Ivan's: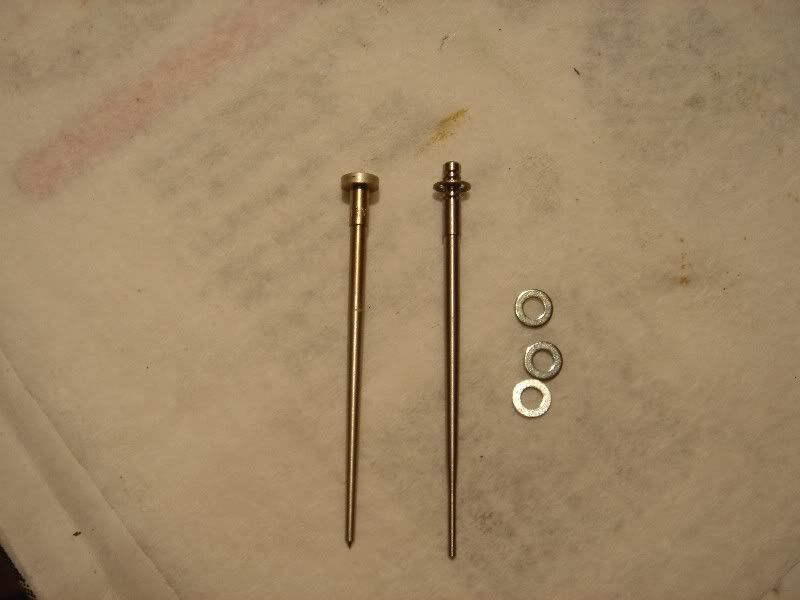 close-up of Ivan's needle, showing some of the cuts (was hard to get the camera to focus on it):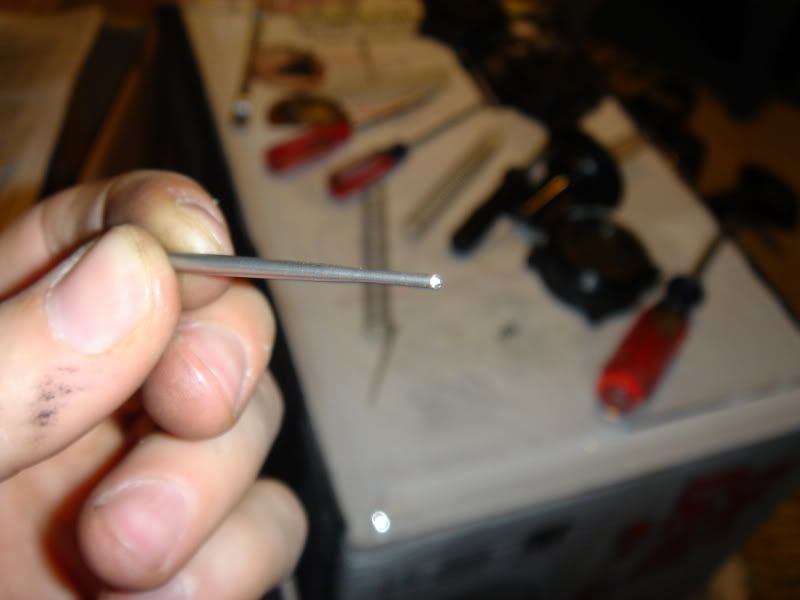 they are adjustable. i just put them on according to the directions, which i don't remember.
now for the air/fuel mixture screws. from the factory, they come with a soft metal cap overlying them. you need to drill this plate out. use the drill bit included in the kit (or any rather small drill bit will work) to make a small hole in the cap. use light pressure: you don't want the drill bit to punch hard through the cap and destroy the screw head that lies beneath it. use a screw (also included in Ivan's kit) to go slightly into the hole you just made. when you have just the tip of the screw in the hole, pull the cap out. repeat for the other 3. yes, this is permanent. the caps do not get replaced, but don't worry, it's not a problem to leave them open. here, the screwdriver is pointing to one of the caps.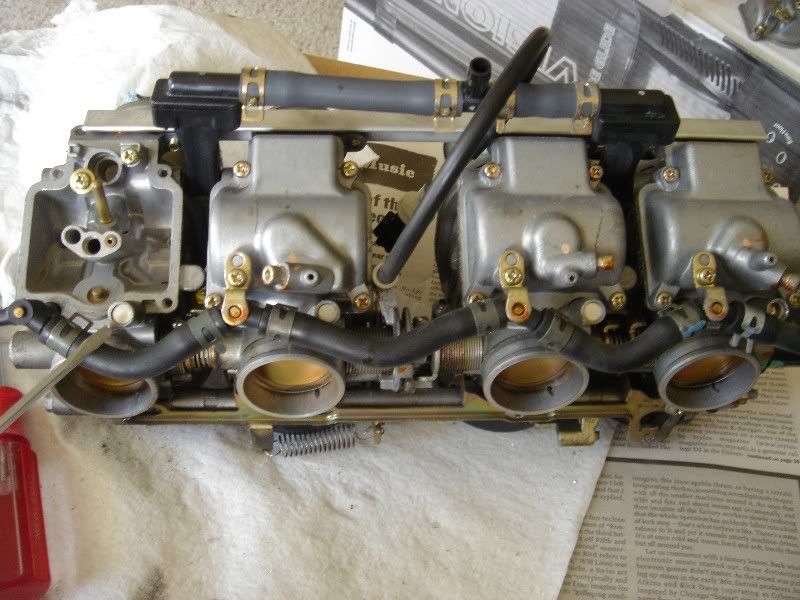 close-up after removing the cap: